Der verserer flere interessante videnskabelige beregninger
Det handler dels om forskelle i hvilken faktor, Radiative Forcing Index, RFI, (atmosfærisk klima-faktor), man skal benytte.
Det handler om at differentiere mellem korte og lange flyture.
Det handler om at beregne forskelle på hvad hver passager fylder i et fly (economy class passagerer fylder mindre end business class passagerer)
Det handler om at inkludere forventlige omveje i flyvningen (som må ganges på afstanden for at slut-tallet er realistisk)
Og endelig handler det om at RF virker forskelligt i forskellige flyvehøjder. Det er der ingen tvivl om, men er der ikke taget højde for det i det gennemsnitlige tal for RFI, eller skal RFI reduceres yderligere i beregningerne? Det mener den engelske regering ikke. Og IPCC nævner det ikke.
Vi konkluderer på baggrund af rapporter og debat: RFI er i al fald på 2,0. Index'et kan meget vel sættes højere; og dækker over en stor usikkerhed. Efter et forsigtighedsprincip kunne man godt argumentere for et højere tal mellem 2,0 og 4,0 (fx IPCC hidtidige 2,7); men vi gider ikke stå alene med noget, som vi kan blive beskyldt for  er "ualmindeligt eller urealistisk højt". Dertil er sagen for alvorlig!
NYT: Det forlyder fra det Europæiske Miljøagentur (EEA) at EU-kommissionen vil udkomme med en ny rapport om emnet, der måske kan sætte tingene på plads. Det skulle ske ultimo 2019.
Nu bliver det noget teknisk:
IPCC
IPCC's rapport (her til direkte download) – og her på IPCC's hjemmeside, som de fleste refererer til, er ganske gammel med tal fra 1992 og angiver klogeligt nok store usikkerheder (2-4). Her kommer der tallet RF-index 2,7 fra s. 419 i afsnit "6.6.5. Climate Change":
To evaluate individual energy sectors as part of overall climate forcing, it is necessary to compare their summed radiative forcing from all atmospheric perturbations, not just that from their use of fossil-fuel carbon alone. The radiative forcing index-defined here as the ratio of total radiative forcing to that from CO2 emissions alone-is a measure of the importance of aircraftinduced climate change relative to that from an equivalent sector with the same fossil fuel use but without any effect other than CO2 (see also Section 6.2.3). In 1992, the RFI for aircraft was about 2.7, with an uncertainty of at least ±1.5. The RFI changes to 3.0 by 2015 then drops to 2.6 for the Fa1 scenario (see Table 6-1). This index ranges from 2.2 to 3.4 in the year 2050 (…)
Der har været forventet en ny rapport fra IPCC om dette i 2018, men den er altså ikke kommet endnu.
Wikipedia
Sammenfatter en del kilder og giver udmærket læsning. Se nærmere. Deres hovedkilde til RFI (som de vælger at kalde emissions weighting factors (EWFs)) er
Valuing the non-CO2 climate impacts of aviation
af Christian Azar og Daniel J. A. Johansson fra 2011. Se rapporten. De konkluderer at RFI ligger et sted i i størrelsesordenen 1.3–2.9.
Den engelske regering
Det er nok de nyeste tal, der kommer frem til RFI på 1,9.
"Greenhouse gas reporting: conversion factors 2018"
med disse hovedtal, CO2e betyder CO2 ekvivalenter, dvs. inkl. RFI 1,9:
162g/km CO2e for flyvninger under 1000 km
213g/km CO2e for flyvninger fra 1000 til 2500 km og
183g/km CO2e for flyvninger over 2500 km
og med følgende interessante tabel med flere detaljer:
With RF
Without RF
Activity
Haul
Class
Unit
kg CO2

e

kg CO2
kg CH4
kg N2

O

kg CO2

e

kg CO2
kg CH4
kg N2

O

Flights
Domestic, to/from UK
Average passenger
passenger.km
  0,29832
  0,29672
  0,00012
  0,00148
  0,15777
  0,15617
  0,00012
  0,00148
Short-haul, to/from UK
Average passenger
passenger.km
  0,16236
  0,16155
  0,00001
  0,0008
  0,08584
  0,08503
  0,00001
  0,0008
Economy class
passenger.km
  0,1597
  0,1589
  0,00001
  0,00079
  0,08443
  0,08363
  0,00001
  0,00079
Business class
passenger.km
  0,23955
  0,23835
  0,00001
  0,00119
  0,12665
  0,12545
  0,00001
  0,00119
Long-haul, to/from UK
Average passenger
passenger.km
  0,21256
  0,2115
  0,00001
  0,00105
  0,11237
  0,11131
  0,00001
  0,00105
Economy class
passenger.km
  0,16279
  0,16197
  0,00001
  0,00081
  0,08607
  0,08525
  0,00001
  0,00081
Premium economy class
passenger.km
  0,26046
  0,25916
  0,00001
  0,00129
  0,1377
  0,1364
  0,00001
  0,00129
Business class
passenger.km
  0,47208
  0,46972
  0,00002
  0,00234
  0,24958
  0,24722
  0,00002
  0,00234
First class
passenger.km
  0,65115
  0,6479
  0,00002
  0,00323
  0,34425
  0,341
  0,00002
  0,00323
International, to/from non-UK
Average passenger
passenger.km
  0,18277
  0,18185
  0,00001
  0,00091
  0,09663
  0,09571
  0,00001
  0,00091
Economy class
passenger.km
  0,139965
  0,13927
  0,000005
  0,00069
  0,073995
  0,0733
  0,000005
  0,00069
Premium economy class
passenger.km
  0,22395
  0,22283
  0,00001
  0,00111
  0,1184
  0,11728
  0,00001
  0,00111
Business class
passenger.km
  0,4059
  0,40388
  0,00001
  0,00201
  0,21459
  0,21257
  0,00001
  0,00201
First class
passenger.km
  0,55987
  0,55708
  0,00002
  0,00277
  0,29599
  0,2932
  0,00002
  0,00277
FAQs til ovenstående tabel
How do you define domestic, short-haul, long-haul and international flights?
Broadly speaking the definition of domestic flights, are those within the UK, short-haul are those within Europe, long-haul are outside of Europe and international flights are those between non-UK destinations.
Why is the impact of flying in business class higher than economy?
Air travel factors are calculated on the basis of the area of the plane each passenger takes up. If a plane is comprised totally of business-class seats, as opposed to more closely packed economy class seats, fewer passengers can fly. Therefore, each passenger takes a larger share of the emissions.
Our organisation only has data on spend. How can I use this to calculate our air travel?
There are no confirmed industry benchmarks that provide accurate CO2e/£ spend data for air travel. We recommend that organisations improve their data collection processes so that they can report on distance (for which CO2e/km figures are available). Alternatively, organisations may, over a number of years, collect their own data and generate their own benchmarks.
My organisation has previously reported using factors without RF, what should I do?
Users should generally use the 'with RF' factors, which incorporate a 90% increase in emissions to include the effect of radiative forcing. If the user's historical data do not include RF,  then they should rebaseline their historical dataset to include the effect going forward. However, users should be aware of the very significant scientific uncertainty surrounding the quantification of these impacts. If organisations do not wish to include RF, then they should continue to select the 'Without RF' factors.
My organisation has previously reported using factors without the distance uplift, what should I do?
All the factors include the distance uplift of 8% to compensate for planes not flying using the most direct route (such as flying around international airspace and stacking).  Historical factors have also included a distance uplift, though it was 9% for 2012 and before. If users did not previously include the distance uplift, then they should rebaseline their historical dataset. However, if users wish to continue to not include the distance uplift, then it should be manually removed from the current factors.
Tell me more about the international factors that were introduced in 2015
In the 2015 update, a brand new set of aviation factors were introduced where aviation factors are now being presented for international flights between non-UK destinations. This is a relatively high-level analysis and allows users to choose a different factor for air travel if flying between countries outside of the UK. All factors presented are for direct (non-stop) flights only. This analysis was only possible for passenger air travel. However, in the interests of consistency with the air freight travel, international freight factors have been included. These factors have been set equal to the current UK, long-haul freight factors.  See the 'Freighting goods' and 'WTT- delivery vehs & freight' tabs for these factors.
Please note – the international factors included are an average of short and long-haul flights, which explains the difference between the UK factors and the international ones.
For information about how the conversion factors have been derived, please refer to the 'Methodology paper' that accompanies the conversion factors.
Klimatsmartsemester
Fra side 12 i dokumentationen fra klimatsmartsemester står der dette:
IPCC uppger ingen samlad siffra för hur stor höghöjdseffekten är *. Vi använder den mest etablerade vetenskapliga uppskattningen och den är, mätt med GWP10012, att den samlade klimateffekten är ca 1,9 gånger högre än påverkan från endast CO2-utsläpp (Lee et al., 2009). Denna uppskattning ligger i linje med vad både Naturvårdsverket (2018) och Transportstyrelsen uppger (2018).
Hur stor höghöjdseffekten är för en specifik flygresa varierar mycket beroende på väderförhållanden, så i verkligheten varierar effekten mellan t.ex. olika resmål och årstider och kan vara både högre och lägre än uppräkningsfaktorn 1,9 som vi använder. Man kan dock med säkerhet säga att för kortare flygresor så är den lägre eftersom flygplanen inte kommer upp till, eller tillbringar en liten andel av flygtiden, på tillräckligt hög höjd. Detta gör att ett påslag med 1,9 är en överskattning för kortare resor (Fichter et al., 2005). För att ta hänsyn till detta har vi antagit att resor kortare än 500 km inte orsakar någon höghöjdseffekt, medan vi för resor längre än 1000 har antagit full höghöjdseffekt. Däremellan har vi antagit ett linjärt förhållande beroende på avstånd, se Tabell 4 för exempel. Då 1,9 är ett globalt medel så bör den reducerade höghöjdsfaktorn för korta flygningar kompenseras med en högre faktor för längre resor. Så har dock inte skett p.g.a. brist på källa för hur stor uppräkningen borde vara. Detta innebär en underskattning av utsläppen.
(Kilden til RFI på 1,9 er Boucher, O., Randall, D., Artaxo, P., Bretherton, C., et al. (2013). Clouds and aerosols. In Climate change 2013: the physical science basis. Contribution of Working Group I to the Fifth Assessment Report of the Intergovernmental Panel on Climate Change (pp. 571-657): Cambridge University Press.)
Tabell 4 Höghöjdsfaktor i semesterkalkylatorn för olika avstånd.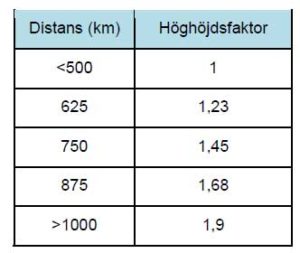 En höghöjdsfaktor på 1 innebär att inget påslag görs, 1,9 innebär ett påslag på 90%.
* IPCC angiver faktisk en Radiative Forcing Index RFI på 2,7 (se ovenfor), og dette tal er formentlig for IPCC et udtryk for et gennemsnit for flyvning. Den ovennævnte beregning hvor korte flyvninger <1000 km bliver gjort endnu kortere tror vi ikke på – det gør englænderne ikke. Kilden hertil er Fichter, C., Marquart, S., Sausen, R., & Lee, D. S. (2005). The impact of cruise altitude on contrails and related radiative forcing. Meteorologische Zeitschrift, 14(4), 563-572.